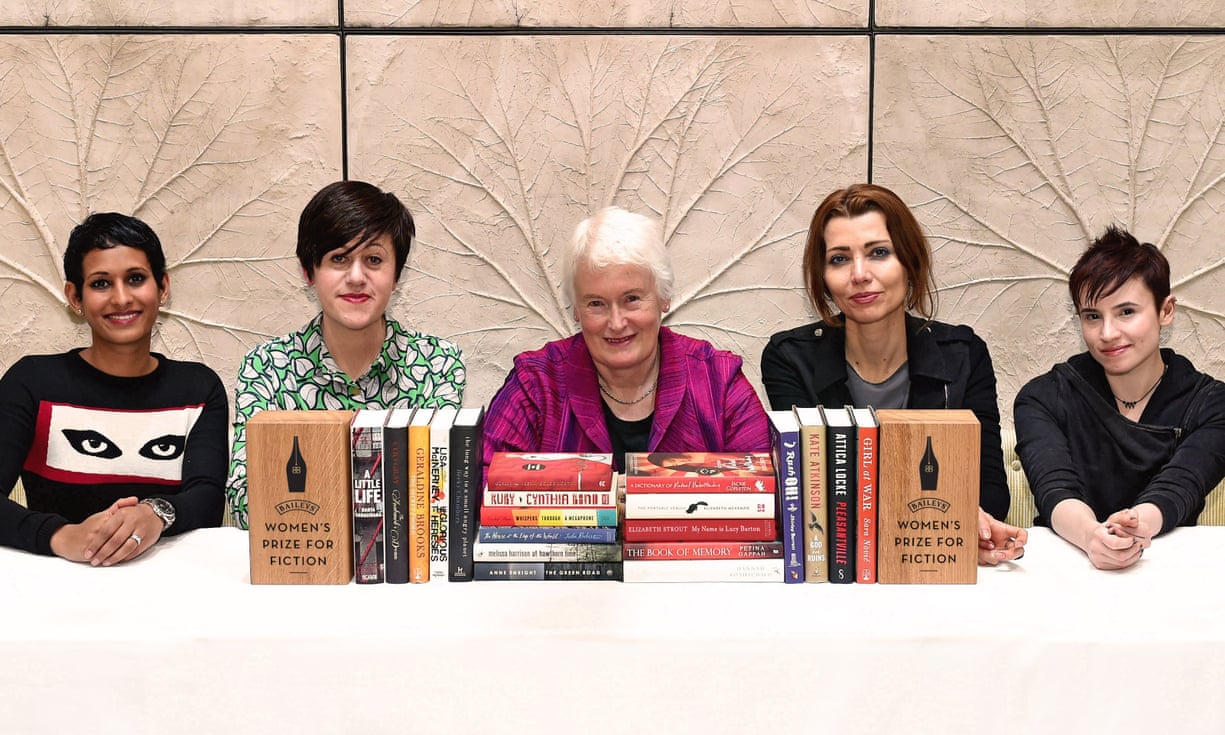 Everything But The Girl takes on The Apprentice! It's a pretty stellar judging panel over at the Baileys awards this year, with Margaret Mountford, Elif Shafak and Tracey Thorn taking to centre stage. Every year this prize just keeps on getting better, so hopes are high for this year's vintage. Voici the 20 contenders culled down from over 170 titles, announced today and hoping to make it to the final six on the 11th April (see update below), before the grande finale on the 8th June:
"A God in Ruins" by Kate Atkinson, 10/10, top, top book and even better than "Life After Life"
"Rush Oh!" by Shirley Barrett
"Ruby" by Cynthia Bond – SHORTLISTED 11th April
"The Secret Chord" by Geraldine Brooks
"The Long Way to a Small, Angry Planet" by Becky Chambers
"A Dictionary of Mutual Understanding" by Jackie Copleton
"Whispers Through a Megaphone" by Rachel Elliott
"The Green Road" by Anne Enright – SHORTLISTED 11th April
"The Book of Memory" by Petina Gappah
"Gorsky" by Vesna Goldsworthy
"The Anatomist's Dream" by Clio Gray
"At Hawthorn Time" by Melissa Harrison, read April 2016, a good read but suspect sadly forgettable over time, 8/10
"Pleasantville" by Attica Locke
"The Glorious Heresies" by Lisa McInerney – SHORTLISTED 11th April – read Aug '16 – utterly fantastic and so far most worthy WINNER, 11/10…
"The Portable Veblen" by Elizabeth McKenzie – SHORTLISTED 11th April
"Girl at War" by Sara Novic
"The House at the Edge of the World" by Julia Rochester
"The Improbability of Love" by Hannah Rothschild – SHORTLISTED 11th April, read July 2016, 6/10, very disappointing
"My Name is Lucy Barton" by Elizabeth Strout, read August 2016, 7/10, not a patch on "Olive Kitteridge"
"A Little Life" by Hanya Yanagihara, 10/10 – SHORTLISTED 11th April, wonderful and a book that stays with you indefinitely.
Now in the 21st year of the competition, this year's theme seems to hone in on domestic issues, and Elif Shafak comments in The Guardian's article this morning that many dealt with the past, "and how the past continues to live in the present", with family also "a very important theme … Many of the books we read were taking a very complex look at family relationships, how complicated it all is, how children and the younger generations take on the burden of the past."
I recognise but 6 of the nominees, so is going to be interesting when the shortlist is revealed, and truly hope to do as last year and have read all six of the Chosen Ones by June. Continue to be thrilled that women's writing is celebrated in this way – bring on the next decade of Baileys and their quest to bring writers to ever wider audiences.
Image taken from here.