Dear All,
It can't just be a happy coincidence.
Am tickled pink, having just recently spent a truly joyous evening up at Montmartre as a very thrilled guest of the Global Nomads book group.
Like Lucy and Sarah at Hard Book Habit who I am vicariously following as they travel around the world in 80 books, and Jen and Bookworm's read around the planet at The Reader's Room, the Nomads read authors literally hailing from all over the globe, from Canada to China, via Capri – and last night they dipped their toes in the Gulf of Naples, discussing Ferrante's blow-away phenomenon that is "A Brilliant Friend" and the Neapolitan Novels.
Having tried and largely failed to get cracking on a read of all things New Yorkish after that marvellous trip there last June (Shoshi's Book Blog did a much better job of that), I keep pontificating about downing tools to read French/Paris-based works only for a given chunk of time, but somehow something else just keeps coming in to sway me off course – and now it has happened again, and I am seriously excited about a foray just across the Channel/the Irish Sea to take part in Cathy at 746books' and Niall at Raging Fluff's "Reading Ireland Month" event – bring on "The Begorrathon" !!
As Cathy comments, "Ireland is about so much more than shamrocks, St. Patrick and leprechauns. For a country the same size as South Carolina, it packs a hefty cultural punch. Ireland has produced four Nobel Prize winners; five Booker Prize winners; some world dominating musicians; a host of Oscar winners (and several nominated for this year's awards) and a leading action hero from Ballymena".
After revelling in the Bafta awards earlier in the week, where Irish talent came to the fore so strongly and "Brooklyn" was named British Film of the year, and having recently reviewed Colm Tóibín and Emma Donoghue, just can't wait to get going. Am spoilt for choice by what is already sitting here on the groaning shelf and feeling like I'm killing two birds with one single stone too, for no book-buying is going to be involved at all for this challenge, so this is going to carry me through oh so very nicely from the end of February to the end of March – by which time should have been successful in not falling off the proverbial perch with the three-month book-buying ban that began at the beginning of the year, ha.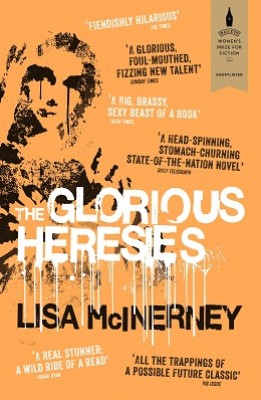 Just like for the Baftas, then, the contenders on the magnificent Irish writer shortlist are (and for this you have to imagine Stephen Fry reading the titles as a voice-off) :
"The Sea" by John Banville (2005, Man Booker prizewinner, 1001 Books)
"Shroud" by same John Banville (2003, appeared in penultimate version of 1001 Books' list but knocked off it in latest)
"The Secret Scripture" by Sebastian Barry (2008, Costa winner 2008, shortlisted for the Man Booker, film coming hopefully soon and starring Rooney Mara)
"Spill Simmer Falter Wither" by Sara Baume (2015, shortlisted for the Costa First Novel Award and The Guardian First Novel Award)
"The House in Paris" by Elizabeth Bowen (1935, on my Classics Challenge list, so keen to read first novel by her)
"Reading in the Dark" by Seamus Deane (1996, shortlisted for the Booker, winner of The Guardian and Irish Times fiction awards, a NY Times Notable book…)
"Frog Music" by Emma Donoghue (2014, film in the making)
"The Sealed Letter" by Emma Donoghue (2011, longlisted for the Orange prize)
"The Barrytown Trilogy" by Roddy Doyle (1992, previous One City One Book choice)
"The Green Road" by Anne Enright (2015, longlisted for the Booker, shortlisted for the Costa Award)
"A Portrait of the Artist as a Young Man" by James Joyce (1916, only relieved that "Ulysses" was not sitting on any shelf in the flat, phew)
"The Butcher Boy" by Patrick McCabe (1992, nominated for the Booker, winner of the Irish Times Literature Prize, recommended by Trish!)
"Dancer" by Colum McCann (2003, also partially set in Paris…)
"Angela's Ashes" by Frank McCourt (1997, winner of the Pulitzer Prize and not sure how have never read it) – now read, 10/10
"'Tis" by Frank McCourt (2000) and
"Teacher Man" by Frank McCourt (2005) to complete the trilogy
"The Glorious Heresies" by Lisa McInerney (2015), glorious indeed Winner of the 2016 Bailey's Prize and an unqualified 11/10
"The Doctor's Wife" by Brian Moore (1988, nominated for the Man Booker, also set in Paris), – now read, 10/10
"The Country Girls" by Edna O'Brien (1960, 1001 Books)
"Girl with Green Eyes" by Edna O'Brien (1962, 1001 Books) – now read (admittedly in the wrong order), 7/10
"The Third Policeman" by Flann O'Brien (1967)
"Best Love, Rosie" by Nuala O'Faolain (2009, recommended an age ago by Céline!)
"After You'd Gone" by Maggie O'Farrell (2000, a re-read)
"My Lover's Lover" by Maggie O'Farrell (2002, ditto)
"The Vanishing Act of Esme Lennox" by Maggie O'Farrell (2006, ditto, all 3 in anticipation of her new novel out later this year)
"Dracula" by Bram Stoker (1986, on my Classics Challenge list)
"The Blackwater Lightship" by Colm Tóibín (1999, shortlisted for the Booker and the IMPAC Award)
"The Empty Family" by Colm Tóibín (2010, short stories)
"The Heather Blazing" by Colm Tóibín (1992, early work…).
As Mr Fry might well say (or words to that effect) – "what a splendiferous, fortuitous, jolly fine plan you have hatched, madame".
Even if I only get a decent handful under that belt in March that will be something to celebrate, and will no doubt spawn a whole new list of Desirables. I now see that the Dublin One City One Book choice for 2016, for instance, is Lia Mill's "Fallen", and am already coveting McCann's "TransAtlantic" and anything at all by Flann O'Brien, but reining in till all the above are done and dusted. To Be Continued…
Yours, abstemiously…