All good things, so so sadly, must come to an eventual end. It's been a roller coaster of a ride trying to gallop alongside the heinously cropped 6-hour adaptation of this epic novel, and I almost came out of the saddle half way through, as I fell dangerously Russian-roulette-like behind with my reading. Spots have been dancing before my mazurka-dancing eyes as I've been studiously working out how many pages a day I needed to devote to the very small print into the very small hours in order to finish the 1,636 page book by the time the BBC had done with it.
Well, I've jolly well gone and done it, and now I seriously don't know how am going to account for my time for the foreseeable; there is going to be aching loss, and not just from carting this weighty tome around with me constantly.
Came across a very funny piece by the ever riveting Tim Dowling who recounts attempting an even more ambitious feat, and oh, how I have loved reading the weekly article written by Viv Groskop that appeared in The Guardian straight after each current instalment. With titles like "Heroes, leeches and a cast of thousands", her writing is irreverent, straight-to-the-bone and laugh out loud funny (if she published a book I'd buy it in a flash – aye aye, see she has, temptation on a plate), but she is also clearly a self-confessed 'fangirl', loving the series as much as the next man. Just done the usual spot of sleuthing and see that not only has Ms Groskop got a distinction for her MA in Russian Studies, so all power to that elbow, but she is also the Artistic Director of the Bath Literature Festival which will take place shortly between the 26th February and the 6th March. Agony not to be able to attend the shindig and mingle with the illustrious likes of Celia Imrie and Sebastian Faulks.
Neither of whom are, of course, even remotely linked to "War & Peace", which had enough dazzle of its own to self-ignite.
There was much well-deserved talk about the far from salubrious and often slightly salacious translation made of this six-hour romp, but by golly did it make for spellbinding viewing. Forget the fact that for a crowd of Russians everyone acted and sounded so very British, and Jim Broadbent still looked like Bridget Jones's dad in a Shuba. Ignore any semblance of vague irritation at certain passages from the novel being cut short or bumpfed up. For there were so many frankly show-stopping moments : Tuppence Middleton is breathtakingly nefarious as the sometime survival-of-the-fittest champion Hélène, even if she comes across as far more intelligent than Tolstoy portrays her character in the text, Stephen Rea is matchless as the society-pirouetting father – and that scene with him and Rebecca Front in Episode One is just terrific… could go on and on at ridiculous length… oh yes, let's not forget heartthrob James Norton, but beware, the edible Tom Burke as the villainous scamp Dolokhov is snapping at his heels – he was pretty great in "The Hour", but gosh he almost steals the show outright here. It's not often I get the urge to quote the faintly outraged Daily Mail, but "Whoar and Peace" really does just about cover it.
The thing is, quite frankly, what was not to love? I so enjoyed reading Shoshi's blog post at the half way post, and agree with her comments – she is way ahead of me as she had already read the book before, but I do know that if this New Year had started any other way there's a good chance the book would have been left untouched for many a moon – and what a travesty that would have been.
I did get put firmly in my place by a History prof just the other day, who raised more than a disapproving eyebrow at my confessing to loving this 2016 rendition. He's advised us to purloin a copy of the 1967 Sergei Bondarchuk masterpiece, which apparently won Best Foreign Film at the Oscars in 1968 and which am sorely tempted to hunt down, despite the challenge of many hours of subtitles or a crash course in Russian. Have also got my eye on the 20-hour marathon of the BBC's not-so-prehistoric version from the early seventies – Anthony Hopkins apparently a stouter, less rumpled and not-such-a-Mr-Darcy type hero… One thing is for sure, I do feel a bit disappointed in the 1956 film with Henry Fonda and Audrey Hepburn. I'm just over half way through it and keep expecting Natasha to burst into a heartfelt rendition of "I Could have Danced All Night"…
The book itself has blown my cotton socks off. No great shakes in noting that "War & Peace" is nothing short of epic, in fact there is nothing short about it at all. I did get completely wrapped up in its sweeping saga, and it would have been far more ambitious to tackle it as a first-timer without the visual props. Reading it one step behind the series may have hindered things slightly, by forcing the admittedly wholly flawless features of Gillian Anderson's face into my mind's eye when stepping into Anna Pavlovna's social whirl, but it saved all the head-scratching over Who is Who and made the book even richer when new, more peripheral characters were introduced on the written page.
Everything is just that much more – many more incidents are covered, so many more details of the times and the social mores are identified and explored, the characters do take on much fuller roles than Andrew Davies can portray – and as a reader, you are so much more taken in by Tolstoy's cheeky use of unlikely coincidence than you can be on the screen. I know they all move in the same hallowed circles, but considering it's such a big country Prince Andrei and young Rostov and co do have a unerring knack for being in the right place at the right time when it suits the narrator.
It's a pretty thankless task being a pleb in Tolstoy's world, and we observe the masses mainly as faithful servants to the main characters whose every move we follow, or as the nameless horde who by and large gets killed off in such great numbers during the lengthy battle scenes. Much time is given to portraying the dreadful conditions of the walking wounded, and we do get a sense of the larger public as the mass exoduses are described near the aptly named Bald Hills and as Moscow empties, but most of the time we tend to forget about the hoi poloi because we are concentrating so hard on the swirl of life at the top end of the social scale.
Andrei is not just any old Andrew, he is aristocratic Prince Bolkonski, haughty heir presumptive to the last, and when push comes to shove he goes straight to the front of the queue : as he enters the VIP lounge on a stretcher,
"Murmurs arose among the wounded who were waiting. 'It seems that even in the next world only the gentry are to have a chance!' remarked one". Hmph.
Pierre likewise is not just your regular bloke Pete, he just happens to also be the illegitimate son of wealthy Count Bezukhov and makes a rags to riches leap in one foul swoop when his dad helpfully pops his clogs at the very start of the yarn, fortuitously recognising him as heir to that throne just in time with a dying breath that is intensely observed by all in sundry. Some boys get all the luck.
One of the characters I loved the very most throughout the story, though, falls dangerously close to the wrong side of the blanket, as it were. Sonya, the "sterile flower", does not have an exotic relation ready to transform her existence and is very much dependent upon the Rostovs for maintaining her tenuous situation in life, and it is utterly fascinating to accompany her through the book. In another tale she could be the Jane Eyre heroine of the story, but here she is relegated to eternally stoic poor relation, and my heart just kept gently breaking for her.
There is a memorable scene when the family finally decides to take to its collective heels and retreat from Moscow. The Countess is in one corner practically having a fit of the vapours, the Count is as usual wandering around ineffectually wondering how all this could actually be happening, Natasha is frisking about with her younger brother (including a reference to their playful behaviour being outright "lover-like", who says Tolstoy keeps a hat on it here, eh?) – meanwhile, Sonya just quietly and conscientiously gets on with the practicalities while the others twitter on about her beloved Nick's prospects elsewhere. "It was very bitter for her. But despite her grief, or perhaps just because of it, she took on herself all the difficult work of directing the storing and packing of their things". Sigh. For let it not be forgotten that if it weren't for Sonya's timely intervention, pal Natasha could well have been in Very Hot Water if the alarm hadn't been raised and she'd managed to slip the loop and slope off with old you-know-who earlier on in the book, causing no end of intrigue… Just as likewise it is unsung heroine Sonya who spots Prince Andrei when further into the book he comes trundling along in a calèche quite undetected by everyone else ("'But who is it? What's his name?' 'It's our intended that was' replied the maid with a sigh"). Three cheers for Jane Eyre. Except when she turns Dolokhov down early on, mind you. Now that was just plain daft. Other than that, I found her to be a very vivid character who does not, unlike plain but equally stoic Mary-with-the-silver-spoon, get her just desserts. I realise this all fits in with Tolstoy's philosophy on (wo)man's free will and predestination and don't know if it's any small consolation, but Sonya would be the first one I'd pick to join my team any time.
I can tell Tolstoy has definitely got a soft spot for her too, though, and I read somewhere that Sonya is also the fictional representation of his beloved Aunt Tatyana Aleksandrovna Yergolskaya (try saying that after a drink), one of the most important influences in his life. She indeed would have married Tolstoy's own father had the grandfather not, a little like the overly generous Count Rostov, succeeded in mismanaging the finances to such a pitch that his Offspring was duty bound to seek marriage to a wealthy heiress to resolve the family's plight… aha…
Well, the 'badaptation' has succeeded in wrapping the whole huge tome up in 6 neat episodes, and I can only imagine how having the opportunity to study this book would be totally all-consuming and completely enthralling, just as a delving into a world of times gone by has been. It's been an adventure and a race against the clock, and I am sorely going to miss Pierre pushing his spectacles up his nose or enjoying a baked potato to such a degree, just as I will miss observing the Countess's slow decline and loss of her waspishness in her dotage, and Rebecca Front, sorry, Anna Drubetskaya lording it over everyone when her son finally lands his millionairess. It shouldn't have come as any surprise, mind, for as Anna Mikhaylovna (that's the same Anna, naturally confusingly by using of course yet another name) describes early on in the book, "'God grant you may never know what it is to be left a widow without means and with a son you love to distraction. One learns many things then… When I want to see one of those big people I write a note and then I take a cab and go myself, two, three or four times – till I get what I want"."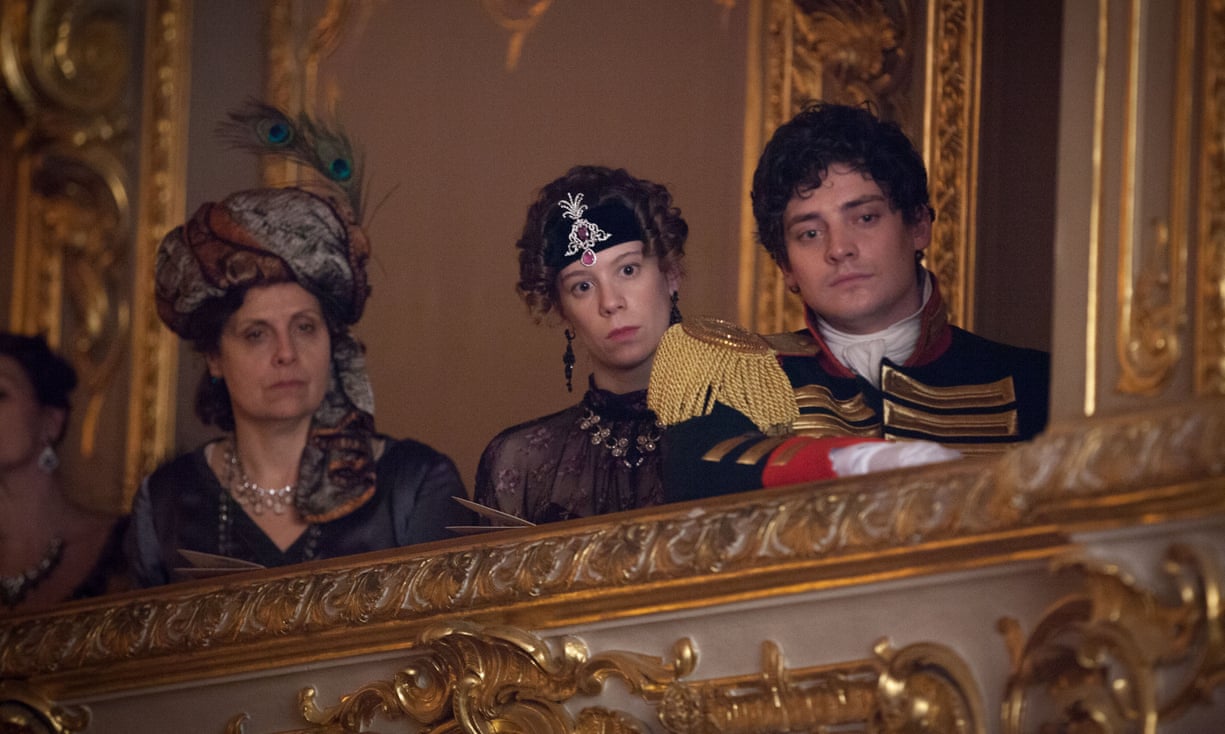 I will miss reading about the superstitions of the time when the same countess "spat a little for luck as she returned to the drawing-room", when the whole family literally sit it out to fit with tradition before they set off on their journey, and as Napoleon tweaks his officiers' ears as a sign of favouritism. I even feel nostalgic already for the page upon page of chit chat while eye-popping General Kutuzov pontificates about the next strategic move during the occasionally ever-so-slightly interminable battle scenes. So I don't think it's going to be that long before a mammoth viewing of "Война и мир" complete with sub-titles is on the cards.
The only faintly jarring note is the overtly bucolic nature of the whopping great Epilogue that portrays idyllic life in the Rostov and Bezukhov households a good seven years after Napoleon has stuck his tail between his legs and rolled off home on his trusty sledge. Not only do we find Sonya acting "like a cat… she had attached herself not to the people but to the home", doing endless good and "rendering the small services for which she had a gift, unconsciously accepted with insufficient gratitude", but Natasha!!!! oh Natasha! What has happened to Natasha? I suppose in this Tolstoy is reflecting the times he lives in, but I rather wish he hadn't. Be a bit much to expect a streak of feminism or a bout of equality for women back in the 1870s, I suppose. As for the rest, it's absolutely bloody marvellous. And, do you know, I already can't wait to read it all over again.
Rating – a rousing, epic 10/10