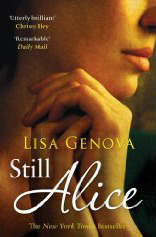 It's not the film of the year, but it has provided the perfect backdrop for Julianne Moore to win her well-deserved Oscar, and it is almost certain to beautifully highlight the plight of so many people's lives being wrecked by a mental illness with more taboos than we care to mention. My secret dream is that my son's current studies in Genetics may one day somehow lead to a magical potion being developed which may make a difference much closer to home, and I wouldn't like to sit in the shoes of those trying to find a solution to the generation of unwell people and their costly place in our society today and in the years to come, but what is certain on the literary front is that Lisa Genova has produced a marvellous piece of fiction that is a testimony to a true life situation all too many of us may one day endure for real.
What is so wonderful about this book is that it is told by our heroine Alice almost in first person. We hold her hand as she loses her way jogging round Central Park and has no idea where home is. We laugh with tears in our eyes and a choke in our throats at the notion of mistakenly putting a book in the freezer and share the frustration of trying to find it. And we wince as her world folds in on her ever more with each ensuing chapter, until we realize she is describing sitting forlornly in the corner of a room while the family members talk about her as though she is not there. She is Still Alice, but she is already lost to us.
The film is great, the book is even better. Read, and feel deeply moved.
Read in 2009.
Rating : 10/10 – A FAVOURITE READ
Image taken here.