One of the things that preoccupies me unduly, in a hopefully remote future, is the prospect of losing my marbles and therefore by extension losing my love for books and my ability to gain pleasure from them. In the superlatively fantastic novel "Still Alice" by Lisa Genova, recently translated so well to the big screen to Oscar-ridden success, there is a passage that still resonates with me now, even though I read the book four or five years ago while our family was experiencing first hand the devastating effects of Alzheimer's as it took its inexorable hold on my dad:
"  She'd been about half way through Moby-Dick and lost it…They'd looked in every peculiar spot that only a demented person would place a book – the refrigerator and freezer, the pantry, their dresser drawers, the linen closet, the fireplace…She hoped she'd left it on the beach. That was at least something she'd have done before Alzheimer's."
But there is worse to come:
"John had offered to pick her up another copy. Maybe he'd gone to the bookstore. She hoped he had. If she waited much longer, she'd forget what she'd already read and have to start over".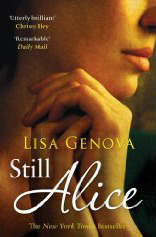 And there lies the dreaded rub with this kind of hereditary illness. At the ripe old age of 52 there are still countless, innumerable stacks of books on my "To Read" list, not to mention my over-burdened shelves, and every time I go near the beloved Good Reads website I have to restrain myself from adding a whole batch more of novels I would like to get through before the year is out, not to mention the decade. So what could be worse than the thought of all those fantastic reads you have made your way through just being effaced from your memory bank? I have, sadly, Excel spreadsheets that record what I have been reading since I started taking note about ten years ago ('tis pitiable, I know, but there are worse pastimes), and confess all these books have even been awarded points out of ten – are you grimacing out loud already…but the idea that I will sometime have no idea that it was the unhinged Mrs Rochester who set the place alight, or that it was unproven but most likely culpable Mrs Danvers who was up to similarly but more calculatedly nefarious acts her end too makes me feel inestimably saddened. To aspire to be well read is all well and good, but I sometimes sense the scope of it to be beyond me – and potentially fear that one day all will be well and truly lost.
Soooo, rather than trail around miserably waiting for the ceiling to cave in Chicken-Licken style, I thought I might try looking at things from the opposite end of the spectrum, and dedicate a little time to enjoying all those books past, present and future even more right here right now. For as a good friend would have it, a little touch of the ultra positive "carpe diem" philosophy might well be in order in celebrating living life to the full, and as my pen-pal keeps urging: "just write, my friend, write!".
So here goes.
Images taken from here and here.